Fast, safe tipping
to anyone, anywhere!
What is JollyTips?
JollyTips is an app where you can easily and comfortably tip customer service experts who are deserving to be recognized for their above and beyond expected customer service. Have a great mechanic or landscaper? You can tip them through the app!
Learn more
How it works
Swipe & send!
Features
Slide 1
Scan the QR code & pay directly.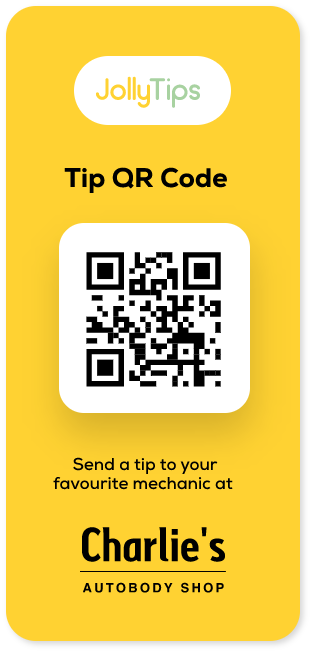 Slide 2
Register, save payment information, & send money quicker the next time!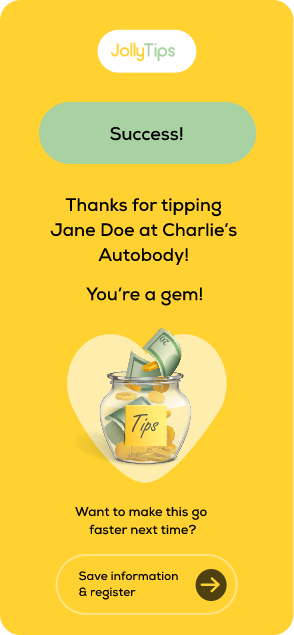 Slide 3
Join, get your own QR code & start earning tips immediately!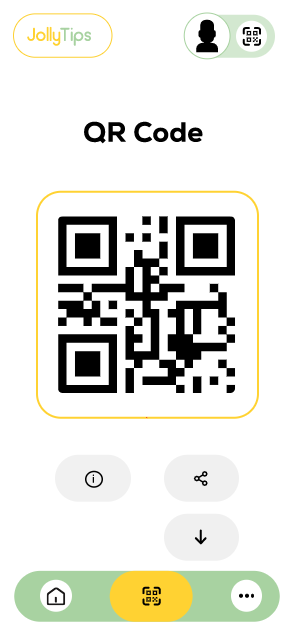 Slide 4
There are a lot of Jane Smiths out there. Find the right one immediately — scan their QR code and up pops their name automatically! No guesswork needed.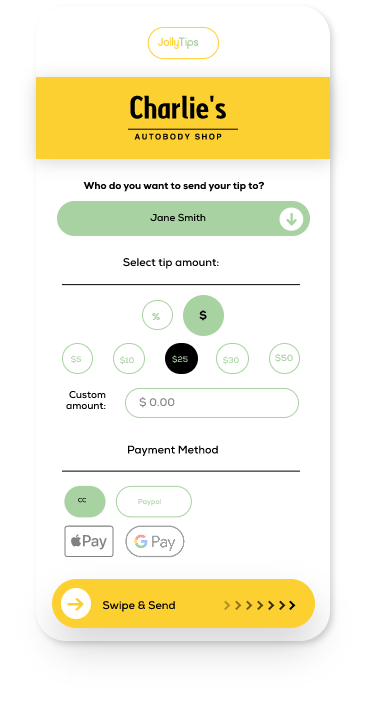 Slide 5
You can register with your company or as an individual.
Slide 6
Send your employee a QR code & have them sign up under your business account!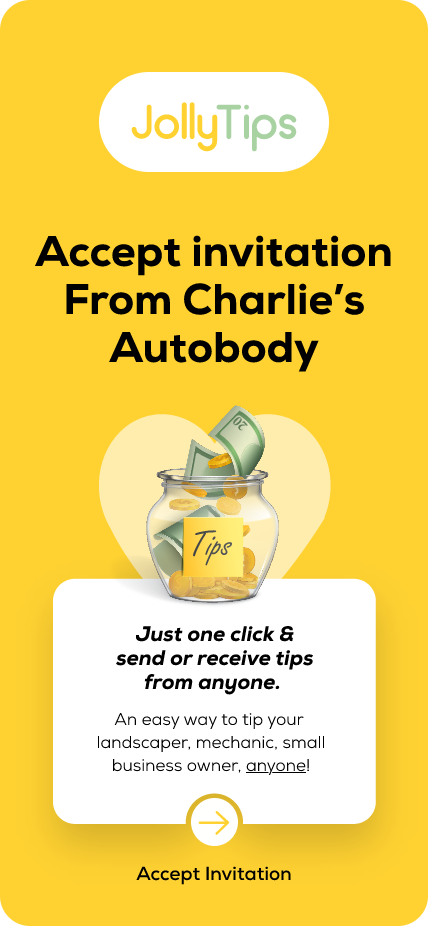 Be a
Jolly

Business
Sign up your business on JollyTips to provide better customer service to your customers.
Happy customers
When your customers receive exceptional service, they walk away happy and will return again!
Happy employees
When your employees know that good customer service will bring them tips, they'll give their very best!
Happy business
When your employees and customers are happy, your business is happy!
Give
JollyTips

, Be Happy!
Received exceptional service from someone? Show your appreciation with a tip!
Receive great service
Do you have that one person that always gives you the best service and goes above and beyond?
Say thanks
Give them a tip to help them do more of what they love.
Be Happy
Know that you've made someone's day better because they made your day first.
How to send a tip to someone:
Swipe & send!
Receive some
Jolly

thanks.
Do a great job and get compensated!
More $ to
do what you love
Earn more funds to do the things you enjoy. Make your dreams a reality!
Incentivize yourself
to give your best
When you give exceptional service, you'll get compensated often and have happy repeat customers!
Be Happy
When you're happy, you spread happy!
How to receive tips:
Get paid!
Meet the creator
Hi, I'm Jeff from JollyTips. My background is in sales and account development. What I have enjoyed about my career is helping business owners be successful.
I have seen and experienced owners and staff give their customers exceptional service that was above and beyond. I started thinking years ago that these customer service experts deserve to be recognized for their above expected customer service.
Why is it when I receive great customer service from my mechanic, plumber, etc. there is no easy, comfortable way to tip these people? JollyTips answers this question.
Contact me to learn more